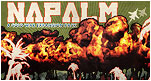 Napalm is a new DLC that puts you in command of the USA once more.This DLC was released the April 25, 2012 with a cost of 400 Microsoft Points. The games focuses more on the Viet Cong instead of the USSR due to their one apperance in the mission Jungle Heat. This expansion takes place in the Vietnam war.
Campaign
Traillblazer: Periodically, a wave of Soviet will move along the ridge and attempt to take over your secundary toy box. If you can defend the two toy boxes, you win a condecoration.
Knee-Deep:This is an ambush, and you have three toy boxes that need to be protected. You starts with a helicopter gunship. This vehicle will be crucial to your victory here.
Survival
Minigame
Multiplayer
Barrage